The ad JOHN DEERE 6930 wheel tractor has been sold and is not included in the search!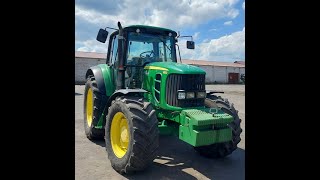 1/27
Location
Ukraine
Uman
Placed on
more than 1 month
Purchase on credit is possible
Purchase by installments is possible
Мощность двигателя: 163 л.с.

Объем двигателя: 6,8 л.

Год выпуска: 2013

Наработка: 9 тыс. м.г.
Колісний трактор JOHN DEERE 6930

Даний трактор виготовлений в та завезений в Україну в 2013 році.

Він має двигун об'ємом 6,8 літрів, який здатний виробляти потужність в розмірі 163 к.с.

Напрацювання даного трактора 9 тис. мото годин.

Цей трактор – найкращий помічник для будь-якого фермера і може виконувати будь-які польові та господарські роботи в фермерському господарстві. Потужності вистачає для роботи з будь-яким причіпним обладнанням (п'ятикорпусний плуг або причіпний оприскувач).