New AKTURK ROW DEPENDENT sunflower header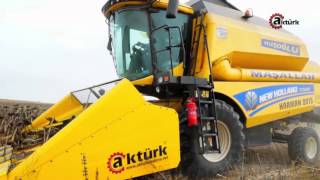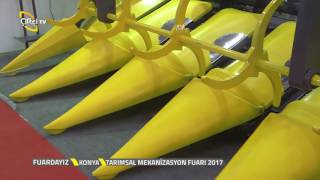 1/12
Location
Turkey
SUNFLOWER HARVEST HEAD (SEQUENTIAL)


* Low product loss
* Easy to use
* Compatible with all harvesters
* Quick installation without the need for any apparatus
* High efficiency
* Easy and rich harvest opportunity even in low-yielding plants
* Thanks to the lower blades, the sunflower stalks are cut from the root and the soil is immediately ready for planting after harvest.
* Lower blade system that can be adjusted up and down by the operator with the help of the hydraulic system according to the conditions of the harvested field
ГЛАВА ЗА РЪБА НА СЛЪНЧОКОЛЕТ (ПОСЛЕДОВАТЕЛНА)


* Ниска загуба на продукта
* Лесен за използване
* Съвместим с всички комбайни
* Бърза инсталация, без да е необходим никакъв апарат
* Висока ефективност
* Лесна и богата възможност за прибиране на реколтата дори при хоризонтални и нискодобивни растения
* Благодарение на долните остриета, стъблата на слънчогледа се отрязват от корена и почвата веднага е готова за засаждане след прибиране на реколтата.
* Долна система на ножовете, която може да се регулира нагоре и надолу от оператора с помощта на хидравличната система в съответствие с условията на прибраното поле.
ΗΛΙΑΚΟ ΚΕΦΑΛΙ ΗΛΙΟΥ (ΔΙΑΔΙΚΑΣΙΑ)


* Χαμηλή απώλεια προϊόντος
* Εύχρηστος
* Συμβατό με όλους τους θεριστές
* Γρήγορη εγκατάσταση χωρίς την ανάγκη για οποιαδήποτε συσκευή
* Υψηλής απόδοσης
* Εύκολη και πλούσια ευκαιρία συγκομιδής ακόμη και σε οριζόντια και χαμηλής απόδοσης φυτά
* Χάρη στις κάτω λεπίδες, οι μίσχοι του ηλίανθου κόβονται από τη ρίζα και το έδαφος είναι αμέσως έτοιμο για φύτευση μετά τη συγκομιδή.
* Κάτω σύστημα λεπίδας που μπορεί να ρυθμιστεί πάνω-κάτω από τον χειριστή με τη βοήθεια του υδραυλικού συστήματος σύμφωνα με τις συνθήκες του αγροτεμαχίου
ГОЛОВКА ДЛЯ УБОРКИ ПОДСОЛНЕЧНИКА (ПОСЛЕДОВАТЕЛЬНО)


* Низкие потери продукта
* Легко использовать
* Совместим со всеми комбайнами
* Быстрая установка без необходимости использования какого-либо оборудования
* Высокая эффективность
* Легкая и богатая возможность сбора урожая даже на горизонтальных и малоурожайных растениях
* Благодаря нижним ножам стебли подсолнечника срезаются от корня, и почва сразу после сбора урожая готова к посадке.
* Система нижних ножей, которую оператор может регулировать вверх и вниз с помощью гидравлической системы в соответствии с условиями убранного поля.
ГЛАВА ЖЕТВЕ СУНЦОКРЕТА (СЕКВЕНТАЛНА)


* Мали губитак производа
* Једноставан за коришћење
* Компатибилан са свим комбајнима
* Брза инсталација без потребе за било којим апаратом
* Висока ефикасност
* Лака и богата прилика за бербу чак и у хоризонталним и ниско родним биљкама
* Захваљујући доњим оштрицама, стабљике сунцокрета се одсецају од корена и тло је одмах спремно за садњу након жетве.
* Систем доњих ножева који руковалац може подесити горе-доле помоћу хидрауличног система у складу са условима обраног поља.
AYÇİÇEK HASAT BAŞLIĞI (SIRALI)


* Düşük ürün kaybı
* Kolay kullanım
* Tüm biçerlere uyumludur
* Hiçbir aparata ihtiyaç duymadan hızlı kurulum
* Yüksek verim
* Yatık ve düşük verimli bitkilerde dahi kolay ve zengin hasat imkanı
* Alt bıçaklar sayesinde ayçiçek sapları kökünden kesilir ve hasat sonrası toprak ekime hemen hazır olur
* Hasat yapılan tarlanın şartlarına göre hidrolik sistemi yardımıyla operatör tarafından aşağı ve yukarı yönlü ayarlanabilen alt bıçak sistemi
Important
This offer is for guidance only. Please request more precise information from the seller.
Safety tips
Seller's contacts
Huseyin Akturk
Languages:
English, Turkish
Turkey, Sandıklı O.S.B Tapduk Emre Sokak NO:14 Sandıklı/AFYONKARAHİSAR
Seller's local time: 04:09 (+03)
Selling machinery or vehicles?
You can do it with us!