New DEUTZ-FAHR Fahr C7206 TS kombájn, NYÁRI KÉSZLETAKCIÓ grain harvester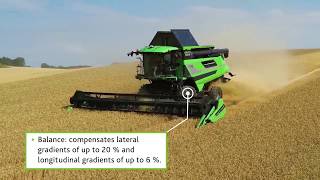 1/10
Model
Fahr C7206 TS kombájn, NYÁRI KÉSZLETAKCIÓ
Location
Hungary
Bács-Kiskun Megye, Baja
Need delivery?
Calculate the cost of delivery
Leírás
DEUTZ-FAHR C7206TS kombájn MINŐSÉGI BETAKARÍTÁS VERSENYKÉPES ÁRON !!!
NE MARADJON LE RÓLA. VÁSÁROLJON A LEGKEDVEZŐBB FELTÉTELEKKEL!!!
KEDVEZŐ FINANSZÍROZÁSI AJÁNLATTAL AKÁR 2,5%-OS KAMATTAL!!!
KIEMELKEDŐ TELJESÍTMÉNY ÉS MEGBÍZHATÓSÁG
DEUTZ-FAHR C7206TS
- 6 ládás kivitel
- 340 Le-s gazdaságos Common Rail motor
- 6.3m vágóasztal Schumacher vágószerkezet
- Vágóasztal szállító kocs
- Autocontrol automata talajkövetés
- 9500 literes magtartály
- szegmensekből álló dobkosár a könnyű és gyors átszerelésért
- szalmaszecskázóval
- turboszeparátor (3. dob)
- kukorica átszerelő készlet
- 24 órás szervíz aszisztencia
Azoknak ajánljuk akiknek fontos a gazdaságos üzemeltetés a kedvező üzemeltetési és fenntartási költség valamint a versenyképes ár és megbizhatóság.
Maximális teljesítmény mindenféle termény betakarításánál; alacsonyabb üzemeltetési költségek; kivételes tisztaságú és minőségű gabona; minden szükséges funkció kompakt kivitelben.
Kedvező ajánlatért keresse értékesítő kollégáinkat.
show contacts
Típus: DEUTZ-FAHR
Munkaszélesség (cm/sor): 6,3
Meghajtás: hidrosztatikus
Szalmarázók száma: 6 szalmarázó
Hűtés típusa: Vízhűtés
Vágóasztal szállítókocsi
Szalmaszecskázó
Gabona adapter
Vezetőfülke
Hektármérő
Vágóasztal talajkövető
Világítás
Important
This offer is for guidance only. Please request more precise information from the seller.
Safety tips
Seller's contacts
Dorker Kft.
The phone numbers have been checked
The address has been checked
Hungary, Bács-Kiskun Megye, Baja
Seller's local time: 01:46 (CET)
Selling machinery or vehicles?
You can do it with us!