New BISS 25 t/h with aspiration chamber grain cleaner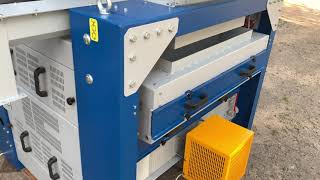 1/16
≈ $11,380
≈ KES 1,383,000
Year of manufacture
08/2021
Location
Poland
Borova 1S, Zheshuv
Placed on
more than 1 month
Description
Overall dimensions
2500 m × 1450 m × 2135 m
Need delivery?
Calculate the cost of delivery
✅ Sieve grain cleaner BISS 25 t/h with aspiration chamber
✅ The BISS 25-1 sieve separator is used for cleaning grain (wheat, rye, oats, etc.) from impurities with different geometric dimensions and aerodynamic properties.
✅ Cleaning is done by passing the grain through a sieve of a specific shape and size. Cleans and calibrates perfectly! The separator can operate in two modes depending on the type of sieve used: pre-cleaning of the product and final cleaning of the seed. The separator can use sieves with round, oblong or triangular holes to clean the grain, matching the shape and size of the main grain.
✅ Characteristics of the BISS 25-1 (27 t/h):
1. Capacity, t/h:
- pre-cleaning: 27
- final cleaning: 7
2. Purification factor, %:
- pretreatment: 20
- final cleaning: 80
3. Installed power, kW: 3,5
4.Dimensions, mm:
- Length: 2500
- width: 1450
- Height: 2135
5. Weight, kg: 880
✅ A free set of sieves is included with the separator! There are models with different capacity parameters and equipment (from 12 to 200 tons per hour).
AG Energy Group Sp. z o.o. invites dealers and sales representatives all over Europe to cooperate on favourable conditions.
✅ Getreidereiniger BISS 25 t/h mit Aspirationskammer | Siebseparator

✅ Siebseparator BISS 25-1 wird für die Getreidereinigung (Weizen, Roggen, Hafer u.a.) von den Fremdbestandteilen ausgelegt, die sich von einander durch verschiedene geometrische Ausdehnungen und aerodynamische Besonderheiten unterscheiden.
✅ Die Reinigung wird durch Kornenschütten durch das Sieb der bestimmter Form und Größe durchgeführt. Wird ideal gereinigt und kalibriert! Separator kann in 2 Betriebsarten bezogen auf verwendeten Siebarten funktionieren: Vorreinigung des Produkten und Endereinigung von Samenkörnen. Für die Reinigung der Getreide im Separator kann man die Siebe mit runden, länglichen und dreieckförmigen Lücken verwenden, die der Form und der Größe des Hauptkornes entsprechen müssen.
✅ Leistungsmerkmale von BISS 25-1 (27 t/h):
1. Ausbringung, t/h:
- Vorreinigung: 27
- Endereinigung: 7
2. 2-te Reinigungskoeffizient, %:
- Vorreinigung: 20
- Endereinigung: 80
3. Аusgebaute Leistung, kW: 3.5
4. Abmessungen, mm:
- Länge: 2500
- Breite: 1450
- Höhe: 2135
5. Gewicht, kg: 880.
✅ Der Separator wird mit einem kostenlosen Satz Siebe geliefert! Modellen mit verschiedenen Ausbringungsangaben und Ausrüstungen sind vorhanden (von 12 – bis 200 t/h).
« AG Energy Group» GmbH beruft zur Mitwirkung die Vertragshändler und Handlungsvertreter in der ganzen Europa zu günstigen Konditionen.
Important
This offer is for guidance only. Please request more precise information from the seller.
Safety tips
Seller's contacts
Victoria Panova
Languages:
English, Swedish, Russian
Ali Badiane
Languages:
English, French, Spanish
Poland, Borova 1S, Zheshuv
Seller's local time: 03:37 (CET)
Selling machinery or vehicles?
You can do it with us!