The ad NEW HOLLAND CX860 forage harvester has been sold and is not included in the search!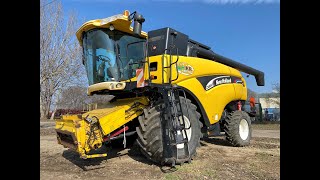 1/41
Location
Hungary
Szeged
Placed on
more than 1 month
Specification:

Year: 2003
Engine hours: 7531
Drum hours: 5568
Type of the engine: IVECO CURSOR 8 (VGT)
Number of cylinders: 6
Displacement: 7800 ccm
Horsepower: 360 hp
Transmission: 4 speed electricaly switchable
Max speed: 25 km/h

Cab:
GRAMMER air suspension driver seat
Reclining, padded passenger seat
Adjustable steering column angle
Digital display on the corner post
Digital climate control
Electrically adjustable and heated exterior mirrors
Inner light
Sun visor
Opening telescopic right side window
Radio
Cigarette lighter socket
Storage compartment behind the seat

Rims and tyres:
900/60R32 BKT
540/65R30 CULTOR with track adjustment

Towing hitch:
Automatic trailer hitch

Lighting and electricity:
Battery isolator
Beacon light (3 pcs)
8 front work lights
2 side work lights
Work lamp on the discharge auger
Electric drum height and fan adjustment from the cab

Audo-guidance:
Possibility of retrofitting universal automatic steering

Accessories:
BISO INTEGRAL CX100 rape extension with hydraulic rape knife ont he right side
Grain and corn basket
NH24 header (7,3 m)
Trolley

Other:
6 walkers
Adjustable rpm: 400-1100 rpm
AutoContour
Electrically adjustable sieves
Opening/closing seed hopper lid from the cab
High performance inclined applicator
Chaff spreader (not currently fitted to the machine, not used)
Chopper with knives in good condition
860 l fuel tank
10.500 l grain tank

From Hungarian owner, ready to work!

Description is for information only. Subject to change, errors and omissions. This advertisement does not constitute an offer.
Részletes specifikáció:

Évjárat: 2003
Motor üzemóra: 7531
Cséplő üzemóra: 5568
Motor típusa: IVECO CURSOR 8 (VGT)
Hengerek száma: 6
Hengerűrtartalom: 7800 ccm
Motorteljesítmény: 360 Le
Sebességváltó: 4 sebességes elektromosan kapcsolható
Maximális haladási sebesség: 25 km/h

Fülke:
GRAMMER légrugós vezetőülés
Dönthető, párnázott utasülés
Dőlésszögében állítható kormányoszlop
Digitális kijelző a sarokoszlopon
Digitális klímaberendezés
Elektromosan állítható és fűthető külső visszapillantó tükrök
Fülke megvilágító lámpa
Napellenző roló
Nyitható teleszkópos jobb oldali ablak
Rádió
Szivargyújtó aljzat
Tárolórekesz az ülés mögött

Felni és gumiméret:
900/60R32 BKT első gumizás
540/65R30 CULTOR hátsó gumizás, nyomtáv állítási lehetőséggel

Vonószerkezet:
Automata vonófej

Világítás és elektromosság:
Áramtalanító kapcsoló
Sárga villogó (3 db)
8 db első munkalámpa
2 db oldalsó munkalámpa
Munkalámpa az ürítőcsigán
Elektromos dobhézag és szelelő ventilátor állítás a fülkéből

Automata kormányzás:
Utólagos univerzális automata kormányzás kiépítés lehetséges

Tartozékok:
BISO INTEGRAL CX100 repcetoldat jobb oldali hidraulikus kaszával
Gabona és kukorica gyorsító kosár
NH24 gabonaasztal (7,3 méteres)
Szállítókocsi

Egyéb információk:
6 ládás kivitel
Állítható dobfordulat: 400-1100 ford./min
AutoContour talajkopírozás
Elektromosan állítható rosták
Fülkéből nyitható/csukható magtartályfedél
Nagy teljesítményű ferdefelhordó
Pelyvaterítő (jelenleg nincs a gépre felszerelve, nem használták)
Szecskázó jó állapotú késekkel
860 literes üzemanyagtartály
10.500 literes magtartály

Magyar gazdától, azonnal munkára fogható állapotban!

A gépet az Agro Partner Magyarország Kft. hirdeti! Több, nagy felbontású képért keressenek minket elérhetőségeinken.

A leírás tájékoztató jellegű. A változtatás, tévedés és elírás jogát fenntartjuk. Jelen hirdetés nem minősül ajánlattételnek.

GÉP – LÍZING – BIZTOSÍTÁS – FUVAR
Specificație:

An de fabricație: 2003
Ore motor: 7531
Ore batoză: 5568
Tip motor: IVECO CURSOR 8 (VGT)
Număr cilindru: 6
Capacitate cilindrică: 7800 ccm
Putere motor: 360 CP
Transmisie: 4 viteză electric
Viteză maximă: 25 km/h

Cabină:
Scaun șofer cu suspensie pneumatică GRAMMER
Scaun pentru pasager reclinabil, capitonat
Unghi reglabil al coloanei de direcție
Afișaj digital pe stâlpul de colț
Control digital al climatizării
Oglinzi exterioare reglabile electric și încălzite electric
Iluminare cabină
Parasolar
Geam lateral din partea dreapta cu deschidere telescopică
Radio
Priză brichetă
Compartiment de depozitare în spatele scaunului

Dimensiune jantă și cauciuc:
Anvelope față 900/60R32 BKT
Anvelope spate 540/65R30 CULTOR cu ecartament reglabil

Cuplare:
Cuplaj de remorcare automată

Iluminare și electricitate:
Întrerupător curent
Girofar (3 bucăți)
8 buc. lumini de lucru frontale
2 buc. lumini de lucru laterale
Lumină de lucru pe melc de descărcare
Reglarea electrică din cabină înălțime gaură de tobă și ventilator

Direcție automată:
Posibilitatea de a monta ulterior o direcție automată universală

Accesorii:
Extensie rapiță BISO INTEGRAL CX100 cu coasă hidraulică pe partea dreapta
Coș cereale și porumb
Heder NH24 (7,3 m)
Cărucior

Alte informații:
6 căișor
Rpm reglabil: 400-1100 rpm
AutoContour copiere sol
Sită reglabil electric
Deschiderea/închiderea rezervor cereale din cabină
Transportor de înaltă performanță
Distribuitor pleavă (nu este montat în prezent pe mașină, nu este utilizat)
Tocător cu cuțite în stare bună
Rezervor combustibil de 860 de l
Rezervor cereale de 10.500 l

De la proprietarul maghiar, gata de lucru!

Descrierea este doar cu titlu informativ. Sub rezerva modificărilor, cu excepția erorilor și omisiunilor. Acest anunț nu constituie o ofertă.