The ad New CELIKEL BRASSUS - HORIZONTAL 6 M3 feed mixer has been sold and is not included in the search!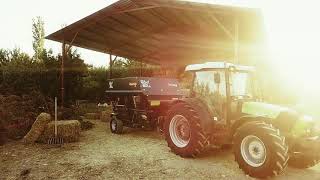 1/9
Model
BRASSUS - HORIZONTAL 6 M3
Location
Turkey
SELÇUKLU/ KONYA
Placed on
more than 1 month
Description
Required tractor power
60 HP
Overall dimensions
4.93 m × 1.86 m × 2.2 m
There is no such machine that could be compared with Brassus®
There still is not enough said about BRASSUS® despite being the most preffered feed mixer of the
World for the last three years in a row.
BRASSUS has an innovative and easily recognized BLACK & BOLD gear group with 26 bolts strength. The performance of BRASSUS is complemented by a perfect matte black design. Brassus does
its best to be more compassionate towards its competitors, but other machines have only dreamed
of growing up and becoming a BRASSUS one day!
Lo que Brassus® no tiene pero otras máquinas tienen es un modelo a seguir!
Todavía no se dice lo suficiente sobre BRASSUS® a pesar de ser el mezclador de alimentos más
preferido del mundo tres años seguidos.
El poco común y reconocido grupo de reducción BLACK & BOLD se coloca sobre el cuerpo de
BRASSUS® con la fuerza de 26 pernos. El rendimiento de BRASSUS® se complementa con un
diseño perfecto y una pintura mate negra aterciopelada. Brassus dedica tanto esfuerzo a ser
más indulgente con sus competidores, pero ellos aún no han pasado el punto de imaginar crecer y
convertirse en BRASSUS®.
Единственное, чего нет у Brassus, а есть у других машин - это образец для подражания!
Хотя BRASSUS уже три года подряд является самым предпочтительным смесителем кормораздатчиком в мире, не все
секреты этой машины раскрыты.
BRASSUS обладает новаторской и признанной редукторной группой BLACK & BOLD с прочностью 26 болтов.
Производительность BRASSUS дополняется идеальным дизайном и густой матово-черной отделкой. Brassus делает
все возможное, чтобы быть более сострадательными к своим конкурентам, но другие машины только мечтали о том,
чтобы однажды вырасти и стать BRASSUS!
Brassus®'un sahip olmadığı ve diğer makinelerin sahip olduğu tek şey bir rol modeldir!
Üst üste üç yıl dünyanın en çok tercih edilen yem karma makinesi olmasına rağmen halen BRASSUS®
hakkında yeterince şey söylenebilmiş değildir.
Ezber bozan ve literatüre geçen BLACK & BOLD redüksiyon grubu 26 adet civatanın sağlamlığı ile
BRASSUS®'un gövdesine kavuşturulur. BRASSUS® performansı, kusursuz tasarım ve kadifemsi
mat siyah boya ile tamamlanır. Brassus rakiplerine karşı daha merhametli olabilmek için çok
çaba sarf ediyor, fakat diğer makineler bir gün büyüyebilmek ve bir BRASSUS® olabilmeyi hayal
etmekten öteye geçebilmiş değiller!