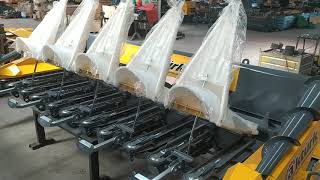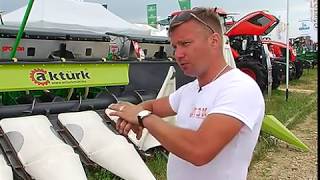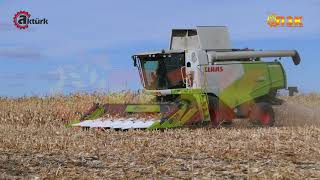 1/15
Location
Turkey
Arrangements have been made on the corn head to easily adapt to the hydraulic structure and maneuverability of the combine harvester. The plate hood is plastic. Also, these plastic hoods can be easily installed on Class, John Deere, New Holland and Laverda. 4, 5, 6,7 and 8 rows of corn harvesting heads are manufactured in our factory. Corn harvesting heads are easily controlled by the hydraulic system according to the stem thickness.


* There are adjustable blades at the bottom of the rollers to cut weeds.
* Thanks to the lower blade kit, the remaining stem is easily broken down during harvest.
* The lower blade kit can be mounted on the corn head later.
* Upper and lower blades are covered with a special anti-wear coating.
* Corn harvester accessories are adjusted to obtain a high level of efficiency.
* Corn harvest head movement is taken from the side gearboxes through the shaft.
* Service and spare parts support is provided by the expert team.
На главата на царевицата са направени механизми за лесно приспособяване към хидравличната структура и маневреността на комбайна. Платформеният капак е пластмасов. Също така, тези пластмасови аспиратори могат лесно да се монтират на Class, John Deere, New Holland и Laverda. В нашата фабрика се произвеждат 4, 5, 6,7 и 8 реда глави за събиране на царевица, които се управляват лесно от хидравличната система според дебелината на стъблото.


* В долната част на ролките има регулируеми остриета за изрязване на плевели.
* Благодарение на долния комплект остриета, останалото стъбло лесно се разгражда по време на прибиране на реколтата.
* Долният комплект остриета може да бъде монтиран по-късно върху царевичната глава
* Горните и долните остриета са покрити със специално противоизносно покритие.
* Аксесоарите за прибиране на царевица са коригирани, за да се постигне високо ниво на ефективност.
* Движението на главата за събиране на царевица се извършва от страничните редуктори през вала.
* Поддръжката за сервиз и резервни части се осигурява от експертния екип.
Έχουν γίνει ρυθμίσεις στην κεφαλή του καλαμποκιού για εύκολη προσαρμογή στην υδραυλική δομή και ευελιξία της θεριστικής μηχανής. Η κουκούλα είναι πλαστική. Επίσης, αυτά τα πλαστικά καλύμματα μπορούν εύκολα να εγκατασταθούν σε Class, John Deere, New Holland και Laverda. Στο εργοστάσιό μας κατασκευάζονται 4, 5, 6,7 και 8 σειρές κεφαλών συγκομιδής καλαμποκιού. Οι κεφαλές συγκομιδής καλαμποκιού ελέγχονται εύκολα από το υδραυλικό σύστημα ανάλογα με το πάχος του στελέχους.


* Υπάρχουν ρυθμιζόμενες λεπίδες στο κάτω μέρος των κυλίνδρων για κοπή ζιζανίων.
* Χάρη στο κάτω κιτ λεπίδας, το υπόλοιπο στέλεχος διασπάται εύκολα κατά τη συγκομιδή.
* Το κάτω κιτ λεπίδας μπορεί να τοποθετηθεί στην κεφαλή του καλαμποκιού αργότερα.
* Οι άνω και κάτω λεπίδες καλύπτονται με ειδική επίστρωση κατά της φθοράς.
* Τα αξεσουάρ θεριστικής μηχανής καλαμποκιού έχουν ρυθμιστεί ώστε να επιτυγχάνεται υψηλό επίπεδο απόδοσης.
* Η κίνηση της κεφαλής συγκομιδής καλαμποκιού λαμβάνεται από τα πλευρικά κιβώτια ταχυτήτων μέσω του άξονα.
* Η υποστήριξη σέρβις και ανταλλακτικών παρέχεται από την ομάδα εμπειρογνωμόνων.
Sulla testata mais sono state predisposte delle predisposizioni per adattarsi facilmente alla struttura idraulica e alla manovrabilità della mietitrebbia. Il cofano in lamiera è in plastica. Inoltre, questi cappucci in plastica possono essere facilmente installati su Class, John Deere, New Holland e Laverda. Nel nostro stabilimento vengono prodotte 4, 5, 6,7 e 8 file di teste di raccolta mais Le teste di raccolta mais sono facilmente controllabili dal sistema idraulico in base allo spessore del fusto.


* Ci sono lame regolabili nella parte inferiore dei rulli per tagliare le erbacce.
* Grazie al kit lama inferiore, lo stelo rimanente si scompone facilmente durante la raccolta.
* Il kit lama inferiore può essere montato successivamente sulla testata mais.
* Le lame superiore e inferiore sono ricoperte da uno speciale rivestimento antiusura.
* Gli accessori della mietitrice di mais sono stati regolati per ottenere un alto livello di efficienza.
* Il movimento della testa di raccolta del mais viene rilevato dai riduttori laterali attraverso l'albero.
* Il supporto per l'assistenza e le parti di ricambio è fornito dal team di esperti.
На кукурузоуборочной жатке сделаны приспособления для легкой адаптации к гидравлической конструкции и маневренности зерноуборочного комбайна. Пластинчатый кожух выполнен из пластика. Кроме того, эти пластиковые кожухи могут быть легко установлены на Class, John Deere, New Holland и Laverda. На нашем заводе производятся кукурузоуборочные головки 4, 5, 6,7 и 8. Уборочные головки легко управляются гидравлической системой в зависимости от толщины стебля.


* Внизу роликов есть регулируемые лезвия для стрижки сорняков.
* Благодаря нижнему набору ножей оставшийся стебель легко ломается во время уборки урожая.
* Комплект нижних ножей может быть установлен на кукурузоуборочной жатке позже.
* Верхние и нижние лезвия покрыты специальным противоизносным покрытием.
* Аксессуары кукурузоуборочного комбайна были отрегулированы для достижения высокого уровня эффективности.
* Перемещение кукурузоуборочной головки происходит от боковых редукторов через вал.
* Сервисное обслуживание и поддержка запасными частями обеспечивается командой экспертов.
На глави кукуруза направљени су аранжмани да се лако прилагоде хидрауличкој структури и управљивости комбајна. Плоча са поклопцем је пластична. Такође, ове пластичне напе могу се лако инсталирати на Цласс, Јохн Деере, Нев Холланд и Лаверда. У нашој фабрици се производе главе за жетву кукуруза 4, 5, 6,7 и 8 редова, а главе за бербу кукуруза лако се контролишу хидрауличким системом у складу са дебљином стабљике.


* На дну ваљака налазе се подесиве оштрице за сечење корова.
* Захваљујући комплету доњих ножева, преостала стабљика се лако сломи током бербе.
* Доњи комплет сечива може се касније поставити на главу кукуруза.
* Горња и доња сечива су прекривена посебним премазом против хабања.
* Додаци за комбајн за кукуруз прилагођени су да би се постигао висок ниво ефикасности.
* Кретање главе за бербу кукуруза врши се из бочних мењача кроз вратило.
* Подршку за сервис и резервне делове пружа стручни тим.
Mısır tablası üzerinde biçerdöverin hidrolik yapısına ve manevra kabiliyetine rahatlıkla uyum sağlayacak düzenlemeler yapılmıştır.Tabla kaportası plastiktir.Ayrıca bu plastik kaportalar Class, John Deere, New Holland ve Laverda'ya kolayca montaj yapılır. Fabrikamızda 4, 5, 6,7 ve 8 sıralı mısır hasat başlığı imalatı yapılır.Mısır hasat başlıkları sap kalınlığına göre hidrolik sistem sayesinde kolayca kumanda edilir.


* Yabancı otları kesmek için merdanelerin alt kısımlarında ayarlanabilir bıçaklar bulunmaktadır.
* Alt bıçak kiti sayesinde hasat esnasında geriye kalan sap kolaylıkla parçalanır.
* Alt bıçak kiti mısır tablasına daha sonrada montaj edilebilmektedir.
* Alt ve üst bıçaklar aşınmaya karşı özel kaplama ile kaplanmıştır.
* Mısır hasat başlığı aksesuarları üst seviyede verim elde edebilmek için ayarlanmıştır.
* Mısır hasat başlığı hareketi yan şanzımanlardan şaft aracılığıyla alınır.
* Uzman ekip tarafından servis ve yedek parça desteği verilir.
Important
This offer is for guidance only. Please request more precise information from the seller.
Safety tips
Seller's contacts
Huseyin Akturk
Languages:
English, Turkish
Turkey, Sandıklı O.S.B Tapduk Emre Sokak NO:14 Sandıklı/AFYONKARAHİSAR
Seller's local time: 20:32 (+03)
Selling machinery or vehicles?
You can do it with us!